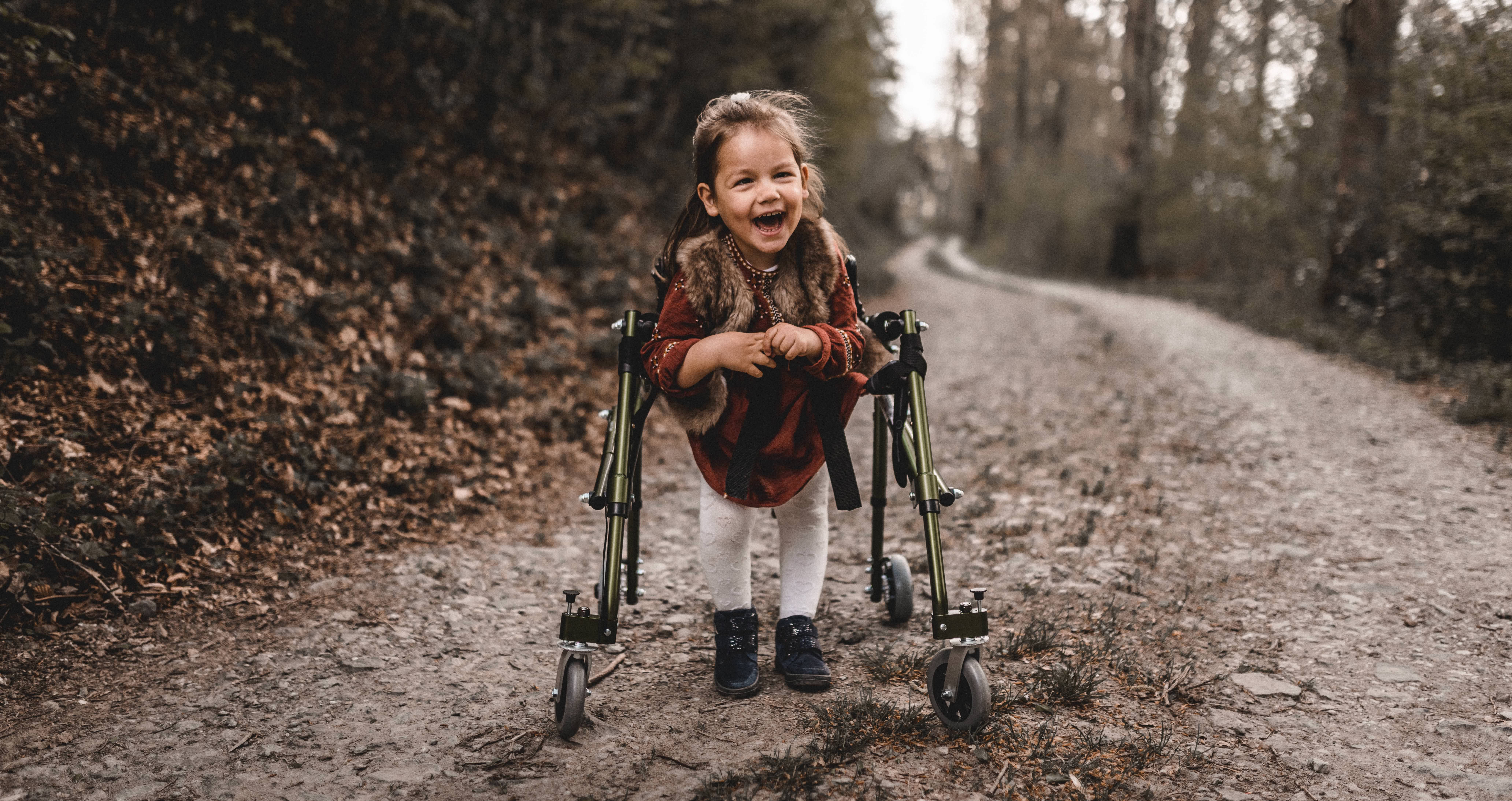 May 6th, 2016. That's the day I came to this world. And believe me, I couldn't wait to explore it.
During my first year of life I really kept my parents on their toes; I was growing bigger and developing wonderfully.
But pretty soon Mama and Papa realized that something wasn't right. For reasons that none of us could understand, my right eye started to cross inwards. But I wouldn't let that stop me; I was just as determined as ever to practice standing up and walking. I so desperately wanted to learn how to walk, but no matter how hard I tried, I couldn't get the hang of it. I just kept on falling over and over again. You should know that I've always had a very strong will and have always been quite a stubborn little one. Again and again I got up on my feet and tried to take a few steps. But sadly, to no avail. So Mama and Papa and all the doctors tried to figure out what was wrong with me. In February 2019, a year and a half and many doctor's appointments and medical tests later, we got the devastating news. I was diagnosed with a severe and incurable disorder. For my family and me, that was day our world seemed to suddenly fall apart.
Although it's all quite a lot to deal with,  I still manage to make the people around me smile every day thanks to my cheerful personality, I love eating, I love taking baths and I love zipping about to and from in my special walker. Though sometimes I do get angry when I realize my hands and legs don't do what I tell them to. That can get pretty frustrating.

Mama and Papa do their best everyday to make my life as trouble-free as they can and, as much as possible, help prevent me from feeling the effects of my condition. From the moment I drew my first breath I've felt wrapped up in their unconditional love. Of course, caring for me isn't always easy, but we are still always there for each other, day in and day out. My situation has only proved all the more how important it is for our family to stick together.
I am so happy that Mama and Papa can count on the loving support of so many wonderful relatives: my grandparents, uncles and aunts, even my godfather and godmother. And let's not forget my cousin: little Diego! Mama and Papa's friends are also very important because they do so much for us fulfilling so many roles: they encourage us, play games with us, comfort us, distract us, ease our worries – in short, they are just always there when we need them. Without them getting through some days would almost be impossible.
Just being able to witness so much love all around us is by far one of the most precious blessings that we've received.

I suffer from a rare disorder that belongs to a group of disorders known as NBIA. Until recently, not even I understood what that meant. That's why I'd like to explain to you what this disease is and what it will mean for my family and me in the future. To make a long story short: I have both Parkinson's and Alzheimer's disease. But the doctors use bigger words and explain it like this: NBIA stands for neurodegeneration with brain iron accumulation. It is a group of inherited neurological disorders characterized by high quantities of iron that accumulate in the basal ganglia, which is an area deep down in the brain. There are several types of this disorders. I myself suffer from the classic form of infantile neuroaxonal dystrophy (INAD), which means that the effects of the disease starts to set in at a very early age and then progress very quickly. Nobody can tell me exactly how my illness will advance. The one thing they do know, however, is that it's degenerative. I'll continue to lose the abilities that I have already worked so hard to acquire. This applies also to memory, which means that childhood dementia will be an inevitable, heartbreaking reality for me and my family. Moreover, as my condition worsens, I will eventually lose the abilities to perceive the world around me with my eyes and my ears. Yes, that means I'll become blind and deaf. But perhaps the saddest news of all is that there is no cure for me.
Of course, there is a whole lot more that one could say about this disease. If you'd like to get more detailed information, then just click on the links below.
Because of my illness I have to rely on several different kind of aids,  such as a care bed, a wheelchair and a special walker. On top of that, our new house, which mom and dad had already planned before they found out about my condition, must now be modified to allow barrier-free access. As you can imagine, all these things cost a lot of money. Mama and Papa are doing their best, working tirelessly to cover as much of the expenses as they can on their own. Unfortunately, however, my extraordinary needs mean extraordinary costs and their income is just not enough to take care of everything. 
Most of the time not even government authorities or agencies can adequately help us, because all their policies and regulations simply haven't been designed to take into account someone like me or my illness. And as if that weren't enough already, my condition is progressing much faster than the time it takes these agencies to approve our applications for financial support. That's why Mama and Papa often feel so helpless and are very sad.
It is for all these reasons that we, as family, are extremely grateful for everyone who would like to support us in any possible way. Every thoughtful and caring gesture, every dollar, euro or pound helps to make my parents' life – and mine too – just that much less burdensome.
If you would like to assist us in meeting all the necessary expenses, then please feel free to send a kinf donation to:
CH57 8080 8007 6226 2446 7
BIC/ SWIFT CODE: RAIFCH22C51
Raiffeisenbank Werdenberg
Payment reference: Donation for Ella
Claudia Schäpper & Gerardo Clemente
Burgeraustrasse 38
9470 Buchs SG
Switzerland

It is important for us to show you as often as we can how your support has made a positive impact on all our lives – not just on mine but on Mama and Papa's as well. In order to do so, we have created a Facebook-page so that you can continue to get updates and find out more about everything  that's going on. To find us, just perform a simple Facebook search using the phrase:
Ich bin Ella.
Or, if you prefer, you can also just click on the Facebook logo below. The link will take you directly on our page. If you click the "like" button the page, you will automatically start receiving the latest news directly on your wall.